Camp Jeep
After an intense run, the auto show season finished strong in New York City, going back to its roots where Camp Jeep first invaded auto shows 15 years ago. The mobs lined up for a ride on the iconic track in The Big Apple.
We thank Jeep and our Gordinier Group staff that continue to make Camp Jeep such a success across the country year after year!

---
While consumers by the thousands were entertained outside on the track, Jeep was also entertaining the masses inside unveiling the all new 2020 Jeep Gladiator that is now in mass production.
The newest member of the Jeep family is a Wrangler-based pickup truck that has a distinct off-road advantage.
---
2020 Jeep Gladiator
Camp Jeep was back at the 2019 Chicago Auto Show with Gordinier Group staff behind the wheel for the 13-day show proving the Jeep capabilities yet again. Although the Jeep line-up speaks for itself on the track, GG Professional Drivers accentuated the off-road abilities and highlighted the Jeep Wrangler as 2019 MotorTrend SUV of the Year.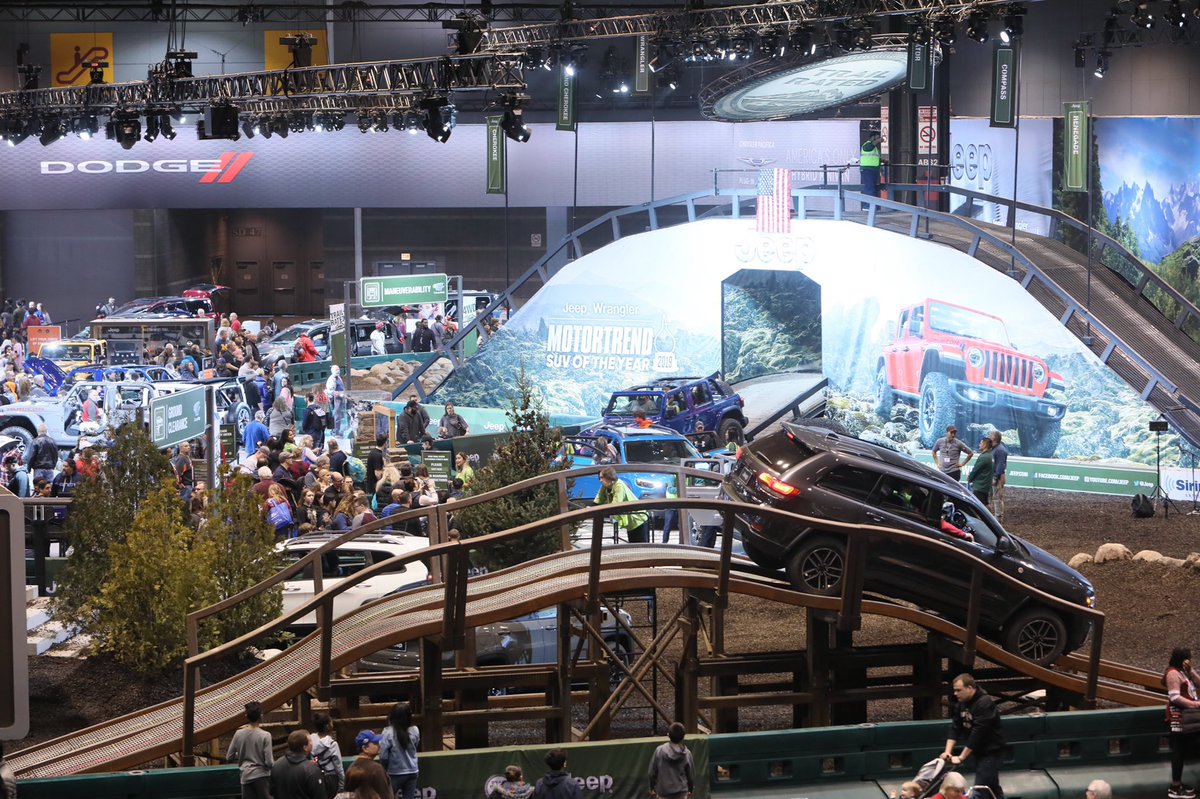 Next Stop……2019 Philadelphia Auto Show bringing the Camp Jeep experience to thousands more in Philly. Fans that have grown to love Camp Jeep and new comers alike, all rushed the track to register again this year.
Another big fan visited the track as well!
https://www.facebook.com/DiggerlandUSA/videos/480650052464892/
The RAM Truck Territory made an appearance at the Houston Auto Show with a variety of 2019 RAM trucks.  They presented the Rebel, Laramie, Laramie Longhorn, and the Limited 1500 models for the test-ride participants that lined up for a ride. Consumers were pleased to get a first-hand look at the RAM 1500 named 2019 Motor Trend Truck of the Year as well as the 2019 North American Truck of the Year.
The Gordinier Group team demoed the various new features on the 2019 RAM 1500 Truck.
Next door to RAM Truck Territory, Gordinier Group staff also turned laps at Camp Jeep with the Wrangler Unlimited Rubicon, Cherokee TrailHawk Elite, Grand Cherokee TrailHawk and the Compass TrailHawk.  Jeepers crowded the track and jam-packed the line.
Gordinier Group hit another stop on the auto show circuit at the San Diego International Auto Show.
Camp Jeep San Diego captured the attention of consumers by the thousands yet again this year. Wrapping up the 4 day show on December 30th, the show was well received by everyone! The track was filled with Jeep Wrangler Rubicons, Cherokee and Grand Cherokee TrailHawks as well as the Compass TrailHawk. There was no shortage on thrill rides for Jeep enthusiasts.
October 4-7, 2018
Gordinier Group drivers traveled to Anaheim, California to kick off the 2018 fall auto show season at the Orange County International Auto Show.
Despite to warm, sunny Socal weather, Camp Jeep brought in record numbers this year! We had long lines at the Jeep track from bell-to-bell all four days and were able to leave great impressions on thousands of interested guests.
We were back inside the Anaheim Convention Center this year, right where all of the action is. While most of the experiential ride and drive events are located outside, Camp Jeep typically runs the proverbial table inside and this year was no different. With the redesigned 2018 Wrangler Rubicon in the rotation, guests can't seem to resist giving the simulated off-road course a go.
Also on tap at this years OCIAS were the new 2019 Cherokee Trailhawk and Compass Trailhawk, as well as 2018 Grand Cherokee and Renegade Trailhawk models. The course featured the 18′ Jeep Mobile Mountain, Trail-Rated Pass, Breakover, Stairs and Sidehill Wedge properties. These obstacles gave guests a 5-minute thrill ride while they learned about each vehicle's specs and what makes them best-in-class on and off of the road.
October 5-6, 2018
Camp Jeep piggybacked onto Cal Jam, a giant, Jeep-sponsored music festival in San Bernadino, CA. With headliner Foo Fighters (and featuring other huge acts such as Iggy Pop and Tenacious D), we knew that we would have the perfect audience/demographic to deliver an authentic, on-brand experience to.
Given the gorgeous mountain backdrop of Glen Helen Raceway Park, it made sense for this Jeep off-road course to be built from mostly organic materials. We supplemented the Jeep mobile mountain with formed dirt articulation mounds, berms, off-camber tilts, a side-hill wedge, and a boulder pile. Building organic off-road tracks is one of Gordinier Group's core competencies and this course didn't disappoint.
Both days of the festival saw guests lining up in droves to experience rides in the new 2018 Jeep Wrangler Rubicon as well as the new 2019 Jeep Cherokee Trailhawk and the new Jeep Compass Trailhawk.
Gordinier Group pro drivers were behind the wheel, navigating the new Jeep vehicles through the extreme obstacles while delivering product info along the way. Feedback from the guests was great at this event.
Hats off to the Jeep and FCA for continuing to sniff out big events with just the right mix of interested guests.
June 5-7
Fiat-Chrysler Automobiles hosted 250 of its top fleet customers and others at its national fleet preview at the Motor City Casino in Detroit.
Attendees listened to a presentation of the lineup and were able to ride along in the vehicles with Gordinier Group drivers. This was a special opportunity – not only was the Camp Jeep mobile off-road course on site (stocked with new Jeep Compass), but there was also a street drive featuring rides in Dodge Hellcat Charger/Challenger, Alfa Romeo Giulia Quadrifoglio and the rest of the FCA lineup. It's not every day that event guests get to take a ride in vehicles boasting 707 horsepower (and 200+ mph top speed)!
Gordinier Group Product Specialists were also on tap to socialize the new Pacifica minivan and PHEV hybrid.
All in all, this was a fun event for both fleet guests and GG drivers alike.
* Images courtesy of FCA Media

2017 was a monumental year for FCA experiential marketing at the Chicago Auto Show! Not only did the automaker roll out a gigantic new build for Ram called the Ram Truck Territory (built by partner George P. Johnson Co.), but it also offered guests the ultra-popular Camp Jeep track and the City Drive, a showcase of FCA's Dodge, Chrysler, and Fiat brands.
All 3 of these tracks gave guests the opportunity to ride in the newest vehicles offered by FCA, with Gordinier Group drivers behind the wheel. Tasked with delivering detailed information about each vehicle while piloting guests up over and through technical obstacles, the GG drivers made countless positive impressions on CAS guests. All 3 tracks operated at full capacity, bell-to-bell, for 10 days, setting a new record for registered guests at an auto show ride and drive.
Below, you will see a brief time-lapse video from a static location on each of the 3 tracks:
Ram Truck Territory-
This track consisted of specific turn-offs for each model Ram truck: a load-leveling demo for 1500, torque-wall pull for 2500 and max weight towing demo for 3500.
Camp Jeep –
The  Camp Jeep track is always a crowd favorite in Chicago. This is no surprise, given the infusion of massive amounts of organic material (dirt, boulders, mulch) alongside the mobile properties that make Camp Jeep a thrilling ride that shows off the brand's off-road prowess. The track features an 18-foot tall, pass-through mountain, staircase, Trail Rated pass, side-hill traverse, breakover and several other challenging obstacles.
City Drive –
The 2017 CAS City Drive track gave customers the chance to experience a ride in 2017 FCA vehicles such as Chrysler 300 and Pacifica, Dodge Charger and Challenger, or Fiat 500 and Spider 124. The track featured an ambient sound zone, Pacifica walkaround lab, vehicle info center, and everyone's favorite, the acceleration/braking strip,
January – April 2015
With a lofty goal of increasing throughput / exposure while building on the premier experiential event in the industry, the entire CJAS team delivered again!
The standards were set higher and everyone involved rose to the occasion to make this program shine once again. Last fall we hit our one millionth Camp Jeep rider after 10 years. The next million will come much more quickly as we continue to improve throughput efficiency.
The 2015 "CJAS Tour" visited:
Houston Jeep 1/21/2015
Houston Ram 2/21/2015
Washington DC Jeep 1/21/2015
Philadelphia Jeep 1/29/2015
Tulare Ram 2/10/2015
Chicago Jeep 2/11/2015
Chicago Chrysler, Dodge, Fiat 2/11/2015
Dallas Ram 2/19/2015
Cleveland Jeep 2/27/2015
Cleveland Jeep 2/27/2015
Minneapolis Jeep 3/7/2015
Atlanta Jeep 3/24/2015
New York Jeep 4/1/2015
Denver Jeep 4/7/2015
This schedule wasn't for the weak of  heart, to be sure. There were many hours worked, laps driven, much experienced gained, and most importantly, many thousands of people exposed to FCA's outstanding current product by Gordinier Group professional drivers.
We were once again humbled by (and thankful for) the opportunity to take the stage and represent the brand(s)!